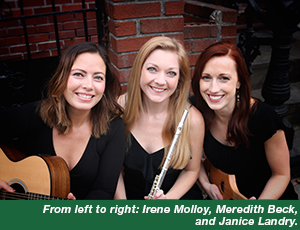 The Galway Girls, who developed as a spinoff of Frank McCourt's The Irish…, will appear at the Pierre Hotel in Manhattan on St. Patty's Day Saturday, March 17.
The three girls are part of the Bucks County Center for the Performing Arts – Meredith Beck, Irene Molloy, both born and raised in Bucks County, and Janice Landry of Boston.
The Galway Girls will sing and perform Irish folk songs, some of which are "Paddy Reilly," "Finnegan's Wake," "Mrs. Mcgrath," "Wild Mountain Thyme," "Fields of Athenry," "Moonshine," "Black is the Color," "The Dutchman," "I'll Tell Me Ma," "Carrickfergus," "Dreams by the Cranberries," "Rare Old Times," "No Nay Never/Wild Rover," and of course, "Danny Boy."
There is a $70 cover charge and $25 food and beverage, minimum. Advance reservations are required. For bookings, call 212-940-8113 or email twoe@tajhotels.com.