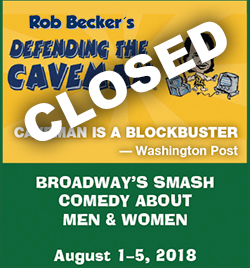 Defending the Caveman
A hilariously insightful play about the ways men and women relate, Caveman has both sexes roaring with laughter and recognition.
Affectionate nudging between audience members occurs during the performance as they recognize themselves in the stories being told on stage. Defending the Caveman makes us laugh at ourselves about all the ways men and women fight, laugh and love. Caveman has since become a peacemaker in the ongoing misunderstandings between men and women.
Click on the green button below the date and time you wish to attend.
WEDNESDAY
August 1
7:30pm