Bucks County choreographer battles breast cancer while working on 'A Chorus Line'
AUGUST 6, 2018
by John Timpane, Staff Writer, Philly Inquirer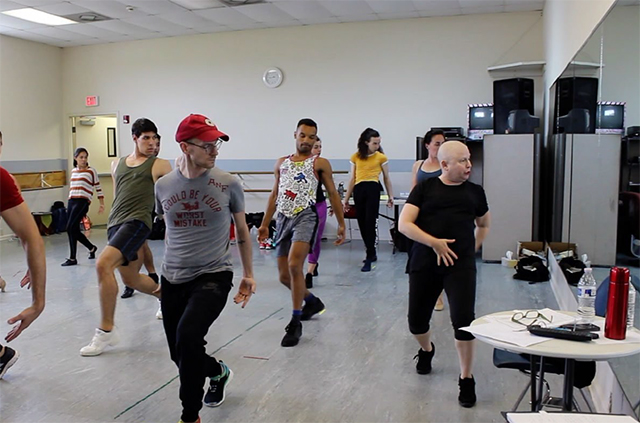 This is a story about (a) the Bucks County Center for the Performing Arts in Doylestown, in just its second year; (b) Jim Raposa and Claudia Shell-Raposa, a couple with deep Broadway cred, now working on the center's next show, A Chorus Line; and (c) Shell-Raposa herself, choreographer, doing daily rehearsals while in the midst of her second round of weekly chemotherapy for breast cancer.
Jim, directing A Chorus Line, credits local producer Howard Perloff with "really insisting that this part of Bucks should have an arts center of the highest quality." The cast for Chorus Line is from all over: Doylestown, New York, and Philadelphia.
Claudia says, "We are working at 150 percent Broadway skill level here. It's an amazing, very talented cast. I was over at the theater just now. It's a dry tech day. The mirrors are going up; we'll be ready to go on Wednesday."
So…how are you, Claudia? Her words show she is drawing strength from all around her, particularly from A Chorus Line itself. "When I got the job," she says, "I didn't know I was sick. This is my all-time favorite show, though, so I knew I was going to do it if at all possible. Besides not having the stamina I usually have, and just being tired, I just try to push through, because the show really does speak to me, and it has such great heart. Of course, when I get home, I throw myself down on the bed.
"A Chorus Line is really about my life," she says, "being a musical theater performer, having that great passion for what you do. And the collaborative aspect is comforting, everybody working on a common goal with great love." Responding with intense work, the cast "has really jelled into this loving family," she says, "and that's why this will be a hit, because you can feel that. It's palpable."
A Chorus Line. Aug. 8-19, Bucks County Center for the Performing Arts. Delaware Valley University Life Sciences Building, Delaware Valley University, 700 E. Butler Ave., Doylestown. Information: 215-297-8540, buckscountycpa.org.