Bucks County Center for the Performing Arts Presents the Phenomenal Broadway Hit: A Chorus Line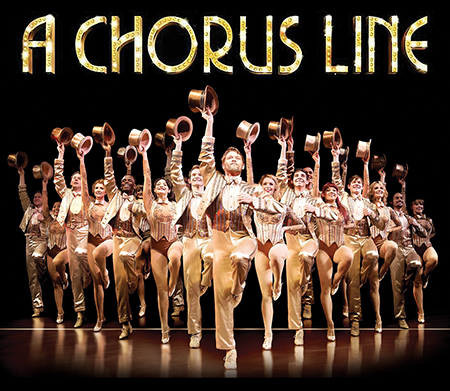 Bucks County Center for the Performing Arts (BCCPA) under the Artistic Direction of Doylestown local Howard Perloff, is proud to present Michael Bennett's groundbreaking musical A Chorus Line presented at Delaware Valley University in the Life Sciences Building from August 8-19, 2018. Tickets can be purchased by calling: 215-297-8540 or going online: buckscountycpa.org
Directed and Choreographed by Broadway Performers and Husband and Wife team , Jim Raposa and Claudia Shell-Raposa features professional actors from surrounding towns, Philadelphia and New York including Meredith Beck, Dani Cohen, Ricky Dieter III, Brett Marco Glauser, Nickolas Gonzales, Achilles Inverso, Mackenzie Jones, Emily Larger, Michelle Lemon, Diane Meck, Kathryn Miller, Taylor Elise Rector, Ciara Richards, Christian Ryan, Angel J. Sigala, Riley Vogel, Jacob Waldron, Jordan Weagraff, Lauren Weiss, Olivia Whitehouse, and Anthony Wright with Set Design by Dustin Pettegrew, Lighting Design by Stefan Didizian, Costume Design by Janelle Berte, Sound Design by Travis Johnson and Music Direction by Christopher Ertelt.
ABOUT A CHORUS LINE: A Chorus Line, with music by Marvin Hamlisch, Lyrics by Edward Kleban and a book by James Kirkwood Jr.,Nicholas Dante and winner of 9 Tony Awards, 6 Drama Desk Awards and a Pulitzer Prize for Drama is a story that focuses upon 17 dancers auditioning for spots in a new Broadway Musical. Individually and collectively they step off the line to share their stories, some hilarious, some poignant and some vulnerable, but all relatable. With vibrant and heart rendering numbers "What I Did for Love", "One" and more, A Chorus Line is as relevant today as it was over 40 years ago. This brilliant musical relates to anyone who "puts themselves on the line" chasing their dreams through hard work, sweat and hours of training with no guarantee of success.
BCCPA in its second year is fast approaching its mission to develop a permanent, professional Theater in Doylestown by providing quality productions and entertainment for public enjoyment and hiring local talent as well as performers from the surrounding area to perform in plays that we produce. BCCPA works to find new composers, cultivate new playwrights all while educating young performers. Ultimately their goal is to introduce educational programs in acting, dancing, singing, set design, lighting design, costume design and various musical instruments.
A CHORUS LINE
Directed by Jim Raposa
Choreographed by Claudia Shell-Raposa
Conceived and Originally Directed and Choreographed by Michael Bennett
Music by Marvin Hamlisch
Lyrics by Edward Kleban
Book by James Kirkwood Jr.,Nicholas Dante
MAINSTAGE: Delaware Valley University • The Life Sciences Building
PERFORMANCE DATES: August 8-19, 2018
LOCATION: Delaware Valley University-Life Sciences Building • 700 East Butler Ave • Doylestown, PA
BOX OFFICE: 215-297-8540 • for more information visit: buckscountycpa.org